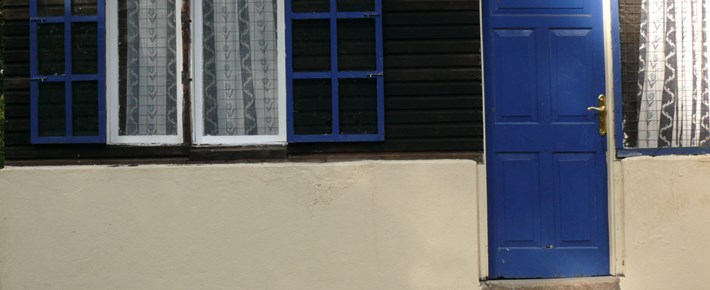 Our buildings contain several rooms with basic furniture, including a bed with mosquito net and bed linen, a reading table, and a chair. Most rooms have a single electric light. Visitors must bring their own towels and toiletries.
Gallery
Each building has access to a pit latrine type toilet. The camp has four showers with water heated in the late afternoon. Water is harvested from the roofs during the wet seasons and stored in tanks around the camp.
The food is mostly vegetarian and consists of beans, rice, potatoes and cabbage with local pineapples and mangoes usually available. The domestic staff will supply a simple hot meal each evening. Researchers share a kitchen and can, if they wish, cook together and organise their own food shopping. Vegetables can be bought from nearby markets at Kabango (8 km) and Masindi (37 km). The kitchen is equipped with a gas cooker, water filter and cupboards for storing food.
All researchers and visitors are required to take every possible precaution to prevent the outbreak of fire.
There is mobile phone reception at camp and this can be used for internet access, by buying an internet dongle for the USB port on your laptop at one of the large service shops in central Kampala such as Orange or MTN. Solar panels and storage batteries provide the basic power requirements for lights, computers and charging phones.
The project operates vehicles that are driven by the director, administrator, link researcher, conservation coordinator/veterinarian and project driver.
Related Content
Latest Articles