ILLEGAL ACTIVITIES ON THE RISE IN BUDONGO FOREST RESERVE DURING THE COVID-19 PANDEMIC
May 21, 2020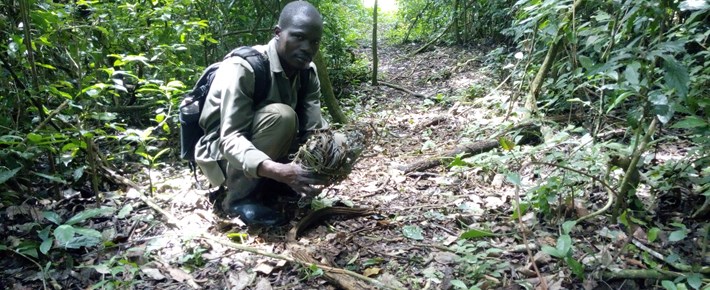 As the world battles COVID-19 with many a people fighting for their lives or having a total change in lifestyle #stayhomesavelives, the impact on the economy is still unfathomable. For the many vulnerable communities neighbouring Budongo Forest Reserve (BFR) COVID-19 has only accentuated the already existent economic challenges. Many households have lost their sources of income and thus their livelihood. The situation is dire and turning to the forest for survival seems inevitable. Having recognized this, it was imperative that we maintained a presence in the forest. Although research work was put on hold as per the Government of Uganda directives in the fight against COVID-19, BCFS maintains a few staff camping at the field station. The field staff are mainly carrying out a monitoring role and snare removal patrols. Poaching, now more than ever in the recent past poses a major threat to the wildlife in Budongo Forest including the iconic chimpanzees.
During March and April (the months following the national lockdown), a dramatic increase in the number of illegal activities in the forest was recorded. The number of people seen accessing the forest has also increased. It is presumed that the communities access the forest to collect firewood and herbs but this may not be all. There have been increased sightings of charcoal burning and a spike in the number of snares recovered. This was the case despite the lower number of snare patrol men in the forest, fewer working days and a smaller coverage. The average number of snares recovered from the forest over the past couple of years was seven (7) with six patrol men. The number of snares recovered from the forest has recently doubled with only a couple of patrol men.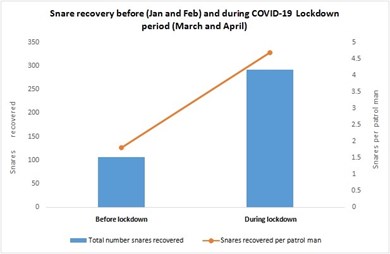 Snares pose a major challenge to chimpanzee conservation as the unsuspecting victims have often had their limbs maimed and lost their lives in some cases. In the April a chimpanzee was reported dead and it was evident that it had been trapped in a snare. On the other hand, a juvenile male chimpanzee of the Sonso community was successfully rescued from a snare by the BCFS veterinary team. Thus due to the high snare recovery rates during the month, a joint patrol comprising of all staff in isolation at the field station was conducted in the Sonso grid (BCFS Research area). A red duiker was rescued from a snare during the patrol.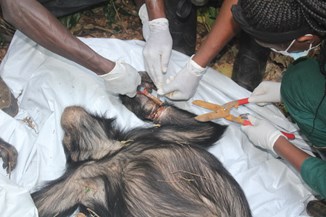 BCFS Veterinary team removing a snare from a chimpanzee's fore limb
It is evident our continued presence in the forest makes a difference. However we do not take for granted the need to protect the wildlife as well as our staff as it is our mandate. All our staff continue to wear face masks and ensure they keep a distance of at least 7m from chimpanzees among other measures.
Stay safe.
Until next time
Categories
Archives
Support BCFS