Powering the forest walk with a Rolex
December 24, 2017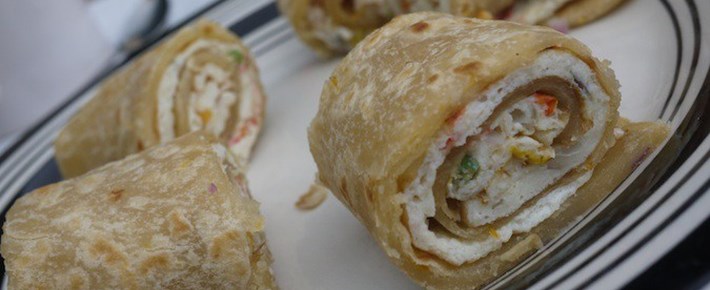 Trekking to Waibira from camp (Sonso) has never been a piece of cake. A researcher in company of their field assistant set off as early as 5:00am in the morning in their field attire and headlamps to provide light before day break. The team often stays in the forest only to return to camp at about 6:00pm after the day's work. The gruesome  climbing over fallen trees in the forest  is common and  the team time and again may have to get off the grid which equates to walking with one's back bent, dodging thorny or skin irritating plants (if you are lucky to see them) and tripping over climbers are stories many  researchers at BCFS will tell.  What keeps them going? Why are they not always angry like the old saying goes? A hungry man is an angry man! The secret and power is in the Rolex. Not the prestigious Swiss watch but the Ugandan snack. A Rolex, Ugandan style is a combination of chapatti, omelet and some fresh vegetables rolled together. It is not only filling but lip-smacking too especially when prepared by Mary the head caterer at BCFS.
Mary Kiwedde first worked at BCFS as a young girl about 20 years ago when she came to the field station to baby sit Mr. Chris Bakuneeta's child (who was the co-director then). She has since then been working with BCFS. Mary has grown through the ranks and gained immense experience due to her big spirit to learn. Mary has not been to any catering school or class and this she will tell you proudly. But prepares unquestionably some of the tastiest food (especially chapatti) I have had the opportunity to taste. I am certain many would back my case. So that got me thinking, where and how does she make the "magic"? Mary says she picked up some of her best cooking tips from her sister in-law who was a chef at a renown hotel in Masindi. "I always watched her cook and took kin interest in the way she did her "thing" in the kitchen" recollected Mary with a look of excitement on her face. "I also do a lot of brain work as I plan and prepare the meals" she added.
At dawn, you will find Mary and her team busy and in high spirits that one wonders when their day started. They start by washing the dishes and scrub the saucepans with soap and some river sand making them sparkling clean. The utensils are then laid out on the rack to dry. The team then goes ahead to prepare and have their breakfast as they wait for the day's menus (African and Exotic). However, occasionally there would be just one menu when all residents on camp get to share a meal together. Otherwise, Mary leads her team to prepare two different menus to fit the African and international students and/or staff. She often prepares meals twice a day. With the help of William Aganyi who splits the firewood into smaller chunks, Mary lights the firewood which should be ready to start cooking in a short while. The kitchen gets really smoky sometimes but even with tearing eyes Mary is able to prepare sumptuous meals. By 1pm lunch is served after which she takes a short break and later resumes to prepare for dinner. Believe it or not, this amazing team is able to prepare at least six sumptuous and timely meals 7 days a week. It gets even more hectic when the number of researchers is high or when we have guests such as volunteers from the Earthwatch Institute. At that point additional staff are engaged to support the catering team. In situations such as those, Mary and her team start to work as early as 4am in the morning so that the volunteers can have the famous Rolex to carry to the field for lunch. The Rolex is a delicacy for many in Budongo and Uganda at large.
Despite the fact that this work is hectic, Mary could not hide her gratitude having this job.  In her words, "It is never easy to prepare a meal for people with different tastes and preferences and have them enjoy their meal. There is so much satisfaction that comes with it in addition to which I am able to provide for and educate my three daughters. In this sense I consider chimpanzees my bosses too. It is because of their presence that researchers come to Budongo which in turn keeps me on job".
Mary shared her recipe for the Rolex that you may like to try this holiday season. (Rolex for five people)
Ingredients
500gms of wheat flour
A litre of warm boiled water
A scoop of margarine
Salt (as preferred)
Quarter a teaspoon of baking powder
2 medium sized onion (optional)
Cooking oil
10 eggs (2 for each rolex)
2 fleshy tomato
Method
Pour 500ml of warm boiled water in a bowl, add a little salt at a time to get your preferred taste.
Stir to dissolve the salt and add finely chopped onions to the solution
In a separate bowl properly mix the flour with the baking powder and margarine
Pour the water solution a little at a time while mixing it with the flour.
Mix the contents until you achieve a fine dough
Cover the dough and let it stand for at least 6 hours
Cut the dough into smaller portions and knead them on a chopping board with a rolling pin.
Remember to sprinkle a little flour on the chopping board before kneading to keep the dough from sticking on the board.
Heat the frying pan and add a little cooking oil, when the oil is hot, place the dough on the pan and fry the underside for about a minute. Care should be taken not to burn the chapatti.
Turn the upside down and add a little more oil to the pan if required (pour the oil directly onto the pan not on to the chapatti and care should be taken not to make the chapatti too oily)
To achieve the best results, the chapatti should be cooked at medium heat.
When the chapatti is ready, remove from heat
Break two eggs into a small bowl, whisk the eggs
Add some chopped onions, a pinch of salt and chopped tomato (only use the pulp the seeds should be removed).
Heat some oil on a pan and pour the beaten egg.
Cook both sides and put the chapatti on top of the omelet
Remove both the omelet and chapatti from the heat and roll them together.
Voila! Your Rolex is ready to eat.
Categories
Archives
Support BCFS